■

外航海運業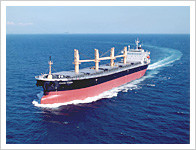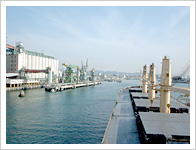 1959年、日本軽金属株式会社との資本及び業務提携を機に、同社が輸入するボーキサイトやアルミナなどの海上輸送を中心にそれまでのオーナー業からオーナー・オペレータ業へと事業の拡大を図りました。
以来、玉井商船はハンディー・ハンディーマックス・パナマックス型バルカーによる 水酸化アルミ輸送に加え、穀物、セメント、石炭、石膏、高炉スラグ等の撤積みカーゴの輸送をワールドワイドのレンジで活発に行っております。
また、玉井商船は安全、確実にカーゴの輸送を行うための安全運航についての訓練、船舶の整備など出来る限りの手段を講じ、安全管理を徹底し荷主に大きな安心をお届けしております。
■

Ocean Going Tramp Services

In 1959 Tamai Steamship entered into a relationship with Nippon Light Metal Company and assumed the responsibility of transporting a major portion of their marine cargoes. From this time onward Tamai Steamship Company expanded its business field from ship-owners to ship owners and operators, mainly carrying the Bauxite and Alumina cargoes for Nippon Light Metal Company by their owned vessels.

Using Handy, Handy Max, and Panamax type of vessels, Tamai Steamship Company has also been actively engaged in the carriage of a variety of bulk cargoes on a worldwide basis. These cargoes were not only restricted to Aluminium Hydroxide but also include other commodities such as Grain, Cement, Coal, Gypsum and Blast Furnace Slag.

Furthermore, Tamai Steamship Company assures every shipper a safe and reliable carriage of all their cargoes through our safe management, training in safe operation and the ships maintenance and repair using the latest high quality supplies and components etc.